DOG FRIENDLY WITHOUT SACRIFICING STYLE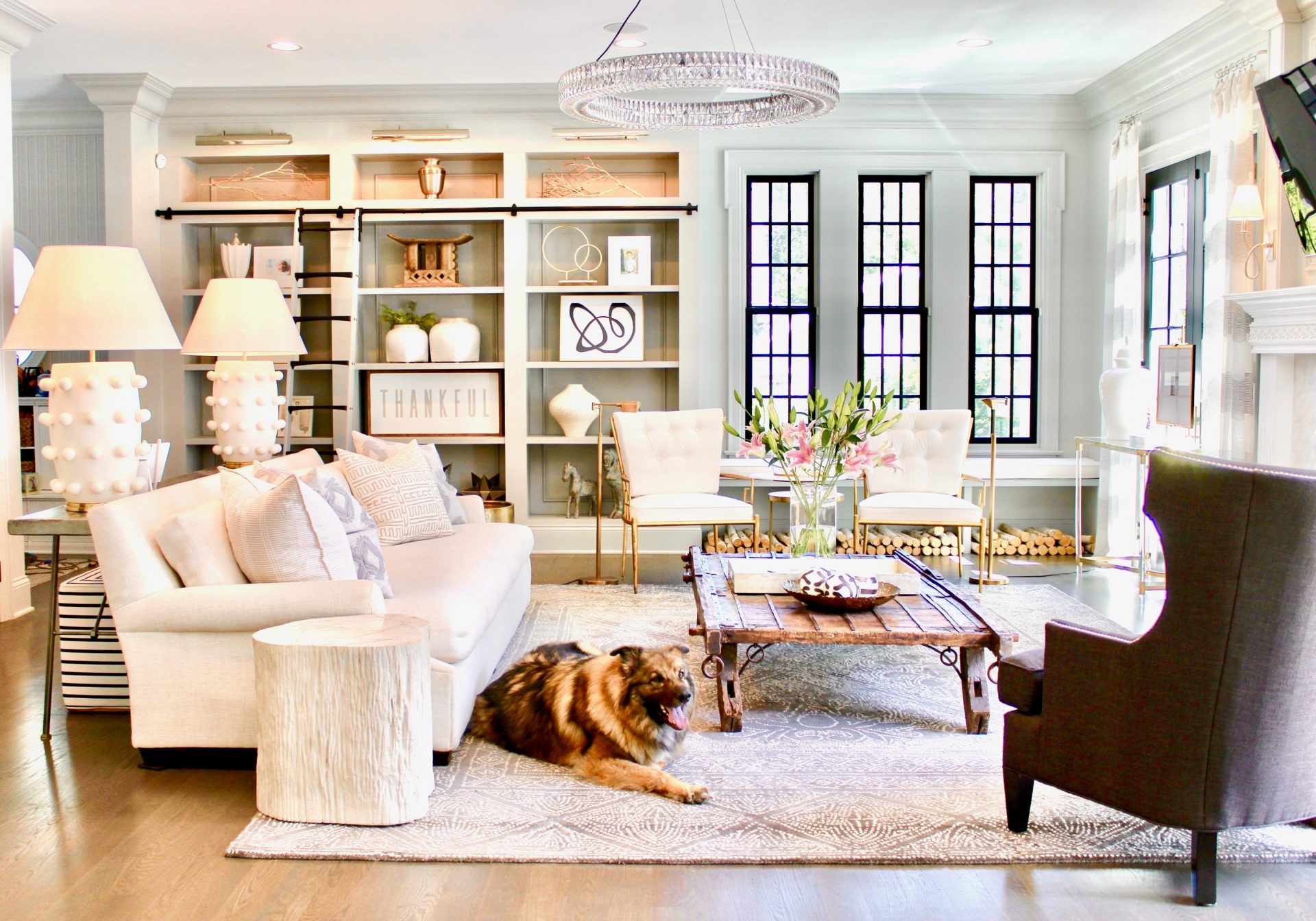 Four Legged Inspiration
Would I ever design a room around a dog?  Yes…  Yes, I would.
My two boys are both aware that my favorite child is our dog, Georgie.  He's my smartest, best behaved, and most handsome son.  As a result, I design my home around him, buy cars that fit his needs, and grocery shop with him in mind.
I know there are those of you out there who feel the same way about their dog as I do.  I also hope that you are not feeling that you cannot have nice things because of your dog.  I am here to tell you that you don't need to be afraid of light colors in your furniture and fabrics, you don't have to settle for unsightly pet beds, and you can integrate pet friendly elements into your home that will make life easier for both you and your best friend.  There is such a thing as pet friendly interior design.
Dog Doors
As a dog mom, you want to ensure that your home is safe for your pup without sacrificing style.
By giving our dog, Georgie, access to the outdoors at his leisure, it has saved us time and energy by not having to let him out every time he needs to use the facilities.
When he uses the dog door, we know that he is safe inside the fenced back yard.  Dog doors are truly a blessing.  As an interior design, I don't think they need to be unsightly, either.
Can you spot the dog door?
Washable Area Rugs
You can have stylish decor that is also easy to clean and maintain.
Ideally, you should have areas in your home that have pet friendly flooring for easy cleanups.  During the potty training period of puppyhood, there will be inherent mishaps.
In this mudroom, I used one of our outdoor area rugs that can be thrown in the wash and line-dried.  I use this same rug in our dog friendly home decor store, 610 Home.
I also placed tile that resembles wood in a herringbone pattern versus hardwood flooring for easier cleanup in a high traffic area.
To keep Georgie's paws toasty warm on chilly nights, our mudroom also has radiant heating laid under the tiles.
Shop Our Favorite Washable Area Rugs:

Pet Friendly Fabrics
What to look for in puppy-proof upholstery.
Pet friendly fabrics have come a long way!  Also known as perennial fabrics, they can withstand not only Fido but also an army of children.  I recently had the chance to test all the new cutting edge fabrics.  It was impressive how ketchup, wine, and coffee can wash out of white fabrics with minimal effort and still remain soft to the touch.  It is becoming the industry standard to use family friendly fabrics on new furniture.
You don't need to shy away from light colored fabrics because you have little ones or pets.  Just get the right fabric.  If you want full proof light colored fabrics, stick with cowhide.  This entryway bench is a good example.  Pets love it, and it is the most stain resistant fabric out there.
Also in the entryway is our sisal outdoor area rug and satin finish painted walls.  Satin finish is one of the most durable for wiping off most anything you can throw at it… from muddy paws to accidental art projects.
Does My Home Compliment My Puppy?
You can create a space specifically for your dog that doesn't clash with your home's aesthetic.
For this client who absolutely adores her dog Bailey, I wanted to design something extra special.  So I had this custom daybed upholstered in teddy bear fabric that matches her coat.  This daybed turned out so cute that we renamed it "The Bailey" in her honor.
I paired the daybed with a polished nickel side table to hold a little gold bowl of her favorite treats.  This is Bailey's favorite spot in the whole house.  I think she has impeccable taste.
Shop Our Favorite Collars and Leashes:

Custom Dog Gate and Feeding Station
What you should look for in gates, cages, and beds.
I think it is imperative in my line of work to make sure that all family members are included in the design process.  This includes thoughtful touches for our furry family members
For our upcoming project in Lake Geneva, WI, I will be including this pocket doggie gate and built in feeding station for their special canine.
My favorite designer pet picks would have to be the Pendleton Dog Bed and the Shearling Throw Rug.
I adore those asymmetrical stripes on the dog bed.  So colorful, too!  This would complement just about any home decor and not be an eye sore like so many other dog beds I see.
The Shearling Throw Rug is neutral enough to work with any decor and cute enough to make the cut.  You can be stylish and functional… win / win.
Click on the pics below for retailers of these products.

Shop Our Favorite Pet Beds:

Shop Our Favorite Feeding and Storage Items: